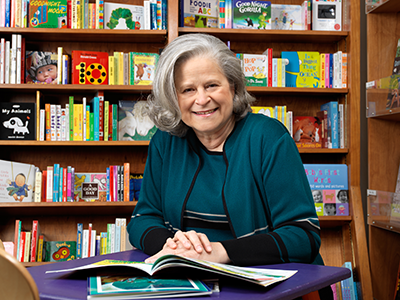 A recent survey found that only one in three parents reads bedtime stories with their children every night. This figure was astonishing to me, not only as the president and CEO of the largest children's literacy nonprofit, but also as a mother and grandmother who has built enduring family traditions around books.
Every December, my daughter sets up her family Christmas tree and the first items placed underneath it are dozens of holiday books acquired starting in her childhood. Each story holds memories from every year we've celebrated together, and the collection continues to grow as I add new books for my grandchildren under the tree. And following the additional tradition of my grandparents and parents, each child in my family receives at least one book every Christmas, one chosen oh so carefully for the recipient.
While I love customs of all kinds, I also know that the reality for too many children is that book traditions like ours remain out of reach. Research shows that literacy among our nation's youngest readers is strikingly low. The fact is, many families in poverty have no books in their homes at all.
But we can change that. At RIF, every day we are working to bring books and high-quality literacy support to the children who need it most. We go through thousands of children's books every year to find the ones that will be the most engaging and educational for young children. Then we make sure they're reaching the children who most need the kinds of materials that will not only build their basic skills, but motivate them to dream beyond what they've seen and write their own best futures. Since 1966, we've given over 412 million books to more than 40 million children, and with your help we will continue to inspire the next generation of readers.
You can start your own family traditions by passing down holiday-themed books that represent your culture and others, or simply by giving books to those in need. Encourage kids to put down their video game controllers and TV remotes down for an evening in favor of a family read-aloud. For me, there is nothing more sentimental than seeing my grandson flip through the pages of a book that I once held in my hands and passed down to his mother.
Three books in particular have become a beloved part of my tradition, and reading these stories is a fun and meaningful experience for me and my grandchildren every year.
| | |
| --- | --- |
| | The Twelve Days of Christmas by Laurel Long – This book might be my favorite rendition of this familiar song with its dazzling illustrations, and interesting facts and imagery. |
|   | Cranberry Christmas by Wende Devlin, Harry Devlin (illustrator) – Get ready for some fun with a skating pond and an old sea captain named Mr. Whiskers. There's even a cranberry cookie recipe in the back! |
| | The Sweet Smell of Christmas by Patricia M. Scarry, J.P. Miller (illustrator) – Little Bear sniffs a variety of Christmas scents in this scented  story, and readers can scratch and sniff their way through the tale, too. |
Every child deserves memorable reading experiences and books to cherish as they grow up. I hope that this holiday season, and throughout the New Year, we will be able to reach even more children so more families can enjoy reading together. Help us make that possible. Make books – and spreading the joy of reading – part of your family tradition.
Happy holidays,
Carol