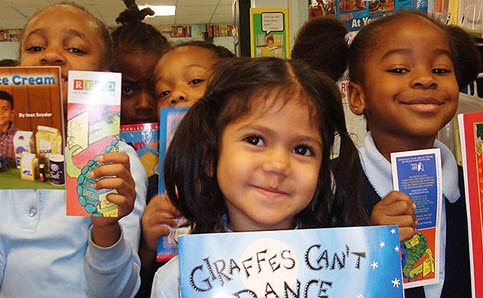 Book People, thank you for believing in the power of reading… for giving children the chance to explore new worlds, dream big, and achieve their full potential.
All year long, you gave us the power to move our mission forward. This holiday season, you will be filled with joy to know that we gave 3.3 MILLION BOOKS to children in underserved communities across U.S.!
And, we didn't just stop there. Just take a look at our 2013 highlights— remarkable achievements made possible by your love of RIF and reading:
A world view

— We distributed over 3,000 sets of our newly released Multicultural Book Collection, featuring 40 award-winning books to excite kids about STEAM (Science, Technology, Engineering, Arts, and Math) through stories and characters from around the world.

Digital frontier

— We released Our Book and Water Wonders, our first eBook apps, to provide kids with anytime, anywhere access to immersive reading experiences.

Finding what works

— With the help of the U.S. Department of Education's Innovative Approaches to Literacy program, we began a multi-year research study in 15 states to combat summer reading loss among children living in poverty.

Supporting military families

— This spring, we welcomed 350 military families at Ft. Bragg, one of the largest and busiest military complexes in the world. One father gave a heartfelt reading of A Paper Hug, a book about a little boy who thinks of a special gift to give his dad who is being deployed to serve his country.

Special Delivery

— We sent extra special love and 9,500 books to children in Oklahoma cities devastated by massive tornadoes.

Major Milestone

— We celebrated 10 years of partnership with Macy's, the nation's largest department store and our largest corporate supporter. And we achieved our biggest milestone to date – raising enough funds throughout our partnership to give 10 million books to kids.
While the scope of this work is nothing short of fantastic — there are millions more children eagerly awaiting books to keep and cherish for their entire lives. With your continued support, we can reach them. Mission forward, together!
BTW, a donation to RIF today through Dec. 31. will be doubled. Double Books. Double Joy. rif.org/give