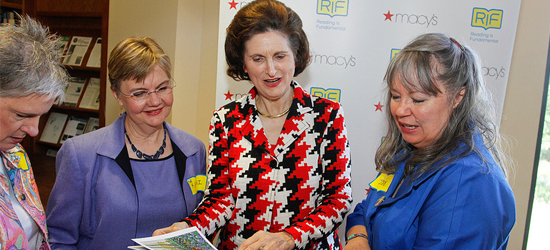 We had an incredible time in Austin last week, celebrating books with Reading Is Fundamental friends and volunteers.
We kicked off the trip with a wonderful discussion of the book "Miss Lady Bird's Wildflowers." Lynda Johnson Robb, a founding board member of RIF, shared her mother's legacy along with Kathi Appelt and Joy Fisher Hein, who wrote and illustrated the book.
Luci Baines Johnson also praised Lynda's longtime support of RIF, sharing an especially touching story about their mother as a child.
Miss Lady Bird lost her mother at an early age.  One day, her daddy, seeing she was sad, asked what he could do to help. She said, "No daddy, you can't help. It's OK."

He pressed her more, asking if he could at least try. The child said, "Oh daddy, no, you can't help. It's just that I miss momma so much. And momma used to read to me. I really miss momma and reading."

Her father responded, "Well, honey, I can read to you."


The child stopped, shocked, and said with surprise, "Daddy, you can read?"

Even at that young age, Miss Lady Bird couldn't understand why someone who could read wouldn't be reading all the time.
The legacy of the Johnson family is large in Austin and it was at the LBJ Library that the next event was held. At a Book People Unite celebration, families met authors Chris Barton, Cynthia Leitich Smith and Tim Tingle, who all have books in RIF's Multicultural Book Collections. Curious George joined the festivities, as did Kay Gooch, one of RIF's Volunteer of the Year Award recipients. Parents and kids from Kay's school, Gullett Elementary, and the families from the Book Spring program, which runs the RIF program in the city, had a great time.
The trip was capped off with a very special book distribution at Campbell Elementary School, a school where 94 percent of the children come from economically disadvantaged homes. Children were treated to a special "trip" where they boarded a magical cardboard airplane – complete with window seats and belt buckles – took a flight to pick out their books. Librarian Sherry Rojas and Book Spring's Jill Gonzalez made it a memorable adventure for the children – and for the RIF staff in who joined them on their journey.
The entire trip was made possible thanks to RIF's longtime partnership with Macy's. Stay tuned for ways you can support our partnership this summer!
Photo, left to right: Kay Gooch, Kathi Appelt, Lynda Johnson Robb, Joy Fisher Hein; photo by: Jack Plunkett/AP Images for Reading Is Fundamental