For the second graders at Pamlico County Primary School, a little rain was not enough to throw a dark cloud over their beach-themed reading celebration last Tuesday. Outfitted with flower leis and their RIF backpacks, they arrived ready to choose their new books and stretch out on their beach towels to read them.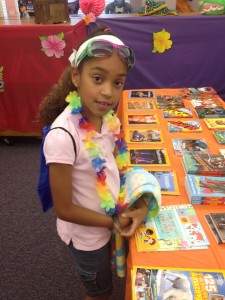 Juliana wants to be a dog trainer or veterinarian one day, so she made sure to pick up a book about bigger dogs as well as one with mini-schnauzers, because she'll "need to know about all kinds of dogs for the future."
Ayden was so excited when he found a new book about volcanoes that he just held it proudly over his head for his classmates and teachers to see. "I'm just fascinated by lava. You can't really play in lava."
One student said it was the best day of his life –"It's my birthday AND I get five new books to take home just for me."
In places like Pamlico County, when school doors close for the year, children from low-income families have limited access to books and educational enrichment opportunities. As a consequence, they can lose more than two months of reading skills before getting back into the classroom.
For the 16 million children who live in poverty in the U.S. and are falling further behind their peers from middle and high-income families each year, their learning loss can add up to four full years by the time they reach high school graduation. We need to get creative to inspire these children to fall in love with reading and develop the skills they need to succeed.
That's why we've rolled out Summer Reading Success, a multi-year summer reading program and research study funded through the U.S. Department of Education's Innovative Approaches to Literacy (IAL) grant. Our goal is to prevent this dangerous summer slide and help kids thrive through an affordable approach that can scale across the nation.
In a nutshell, the program provides 2,800 elementary classrooms with the tools to fight the summer slide, including resources for parents and teachers, and brand new books for students to choose from, read over the summer, and keep as their own.
But the real story is what's happening on the ground.
Across the country, 173 schools enrolled in our Summer Reading Success program are holding events like Pamlico's beach day. These reading celebrations, where students get to select books at their reading levels, take place just before summer break. Their book options span myriad topics from dog heroes to disaster survivors to dinosaur dinners and everything in between. Schools and teachers receive our custom training and resources to help students engage deeply with the books they choose.
And as a result, children are coming up to us saying things like, "Did you know that chocolate comes from the rainforest, and if we didn't have any rainforests we wouldn't have any chocolate?" We can see firsthand that they're getting hooked on reading and learning.
We're excited that results from the first year of the program look promising, and we'll keep you updated as the study progresses. For now, you don't have to take our word for it. Just take a look at these smiling faces: