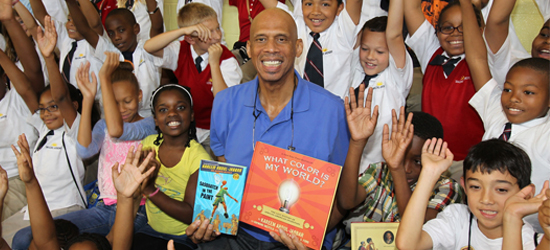 Our good friend, award-winning author, and the NBA's all-time leading scorer, Kareem Abdul-Jabbar is on a multi-city tour to spread the news about the release of his latest children's book, Sasquatch in the Paint, about a nerdy eighth-grader who grows so tall that a basketball coach is determined to turn him into a player.
He made two special stops this past week just for RIF at Ft. Bragg in North Carolina and Joint Base Andrews in Maryland. And wow, did he score big with the military families!
As soon as Kareem stepped into the building, parents and kids alike were in awe. He casually took center stage and opened up about his life and his passion behind writing his latest book.
At Ft. Bragg, where his father was once stationed, Kareem told children that they should follow their dreams — and not necessarily those of their peers.
"I just thought there is so much in popular culture that tells kids that if they're going to be successful, it's going to have to be in the field of sports or entertainment. And that if it's not that, they're not going to make it. Theo, the main character, is on the academic team. He's smart. Books just don't sit in the corner in his room. That was one message I want to get across. Being smart is cool."
Well, his message sure did resonate. At Joint Base Andrews, a proud little girl named Anna jolted her hand in the air and exclaimed, "I'm a celebrity reader!"  She then hopped up from her seat onto Kareem's lap and asked the event photographer to take their picture. Now, that's the confidence Kareem is inspiring kids to have.
Of course, the absolute best part of the event was the end when every child received a copy of Kareem's book to keep and cherish!
We'd like to give an extra special thank you to all the amazing people at Ft. Bragg and Joint Base Andrews. You were awesome hosts! We are incredibly grateful to Kareem and the Skyhook Foundation for their support of RIF and commitment to improving literacy in underserved communities.
You can see all the action on our flickr photo gallery.