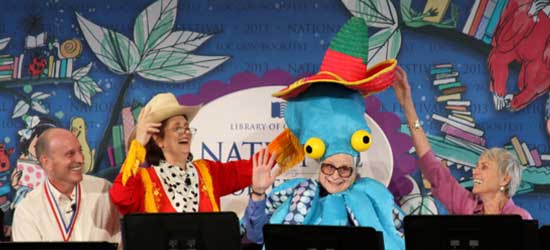 These two go together like peanut butter and jelly. Meet the Cowboy and the Octopus. A pair with some real flair.
I met them yesterday on a sunny afternoon at the National Book Festival on the National Mall.
This hilarious duo jumped right out of Jon Scieszka's children's book Cowboy and Octopus onto center stage at the "Literary Lights" Readers Theater.
With over-the-top and larger-than-life costumes (I might try to snag one for Halloween), these characters were brilliantly brought to life by RIF's president and CEO, Carol H. Rasco, and former First Lady of Virginia, founding board member and Chairman Emeritus of RIF, Lynda Johnson Robb.
They served as Masters of Ceremonies during story book readings by former National Ambassadors for Young People's Literature–Katherine Paterson and Jon Scieszka–as well as award-winning authors Susan Cooper and Grace Lin. They also added a witty tête-à-tête between each story presented that were happily received by erupting laughter from the crowd.
Everyone surely had a blast.
For more highlights, check out the video I took of the hilarious reading "drama".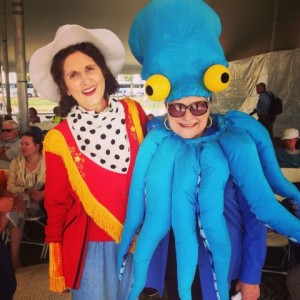 A big round of applause goes to The National Children's Book and Literacy Alliance and The Center for the Book in the Library of Congress for hosting the "Literary Lights" Readers Theater. And wow! There were over 600 Junior League volunteers helping to make this year's National Book Festival a huge success!
We also want to congratulate our friends at Reach Out And Read who won the Library of Congress' David M. Rubenstein Prize for their work on early-childhood education.
We love all of you amazing Book People!