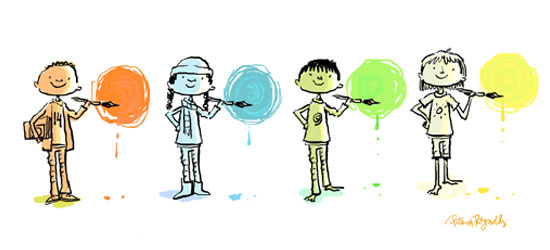 Ever think that you can't do something or that you aren't doing it right?  I'm sure we all have doubted our abilities at some point.
But then there's always that someone that believes in you, empowers you and builds up your self-esteem. Often there's one person or teacher that makes all the difference.
That's what The Dot by Peter H. Reynolds is all about.
So this International Dot Day, celebrate your creativity and embrace what makes you, you!
Here's some ways to get your Dot Day off to a great start:
Make a statement. Have your kids draw, paint, stamp, trace, rub or use any technique they want to create their own special kind of dot. Have them share it with their friends or classmates and discuss what makes their dot unique.
Make some noise. Print out some free posters to display in your classroom or kids room at the International Dot Day website.
Make your mark! Sign up and tell the International Dot Day community what you're doing to celebrate International Dot Day.
Photo Source: Peter H. Reynolds