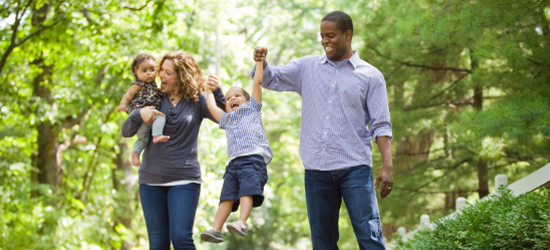 Felix and Jordan were looking for a book that could help their son get ready for his role as a big brother. But none of the families looked like their interracial family. It took some time, but they eventually found their book (All the World, by Liz Garton Scanlon, illustrated by Marla Frazee). And the entrepreneurial couple realized there was a need among countless other parents they could help solve. Thus, Zoobean was born – a site that makes it easier to find remarkable books for kids.
The husband-wife team sat down recently to answer a few questions from RIF.
Q&A
B: Tell us about your family. What books are currently going over best with your little ones?
J: My husband, Felix, and I met when we were teachers in Washington, D.C., where we now live, after having moved around the country quite a bit.  We have two children, 3 and 1, who keep us very busy!   We still love reading All the World to the kids at bedtime; our son likes to let us know, "That's me, and that's my sister," which is really cool because he actually sees himself in the book we're reading.
Other than that, he is a huge fan of most Ezra Jack Keats books, anything that has to do with tractors or construction – Otis is a big favorite. He also enjoys The Three Ninja Pigs.  The kid wants to be a ninja astronaut when he grows up!  Our daughter still loves board books, especially Everywhere Babies. She's fascinated by babies.
B: Have you always been a reader? What's your favorite book to read with your kids?
I grew up in a family of readers.  Some of my earliest memories of my mom and dad are of them sitting on their bed, both reading, and inviting me up to sit with them and read through my books alongside them.  We try really hard to cultivate that same love of reading and stories with our children.
My favorite books to read with the kids are All the World, the Knuffle Bunny series – which give me an opportunity to be silly – and almost any wordless book.  We're really into Zoom by Istvan Banyai, and also love the newer Bluebird by Bob Staake.   Wordless books give you the opportunity to create stories and offer your young child the opportunity to "read" the book to you independently.
B: Here at RIF, we have been highlighting our Multicultural Literacy Book Collection for many reasons. On Zoobean, you've been showcasing multicultural books too. Can you tell us a little more about what you've found in this process?
J: That's great to hear. It's so important that kids are able to see themselves in the media and images around them.  At Zoobean, we want to ensure that all kids are able to see themselves in the stories they read.  In our case, as an interracial couple and family, we wanted to be able to find books that had mixed kids in them.
When I searched on other, all-encompassing sites, the result was recommendations on hair care products and other irrelevant information.  At Zoobean, we make finding the right book easy by extensively cataloging our books, including the main character's background, along with other tags that really matter to parents.  While the data tells us that the stories out there simply don't reflect the population, we do think there are more books than folks know about, and we hope Zoobean makes it easy to discover them.
B: As former teachers, do you think Zoobean would be more appealing for parents than teachers?
J: As a Language Arts teacher, I spent countless hours in bookstores and libraries trying to find books that would challenge and engage my students.  In my case, the librarians became my best friends and helped me make excellent selections.  But not all parents and loved ones want to spend so much time going through this process.
What Zoobean offers is a way to scale that experience you have at an amazing bookstore, where you say, "I want a book that has a brother and sister in it.  I'd like the family to be mixed, too," and boom! Someone recommends All the World to you.  Or, "I am looking for a book that has a not-so-pink girl main character and emphasizes emotional development like embracing individuality.  Oh, and my daughter just loves animals," and boom! Someone recommends Me…Jane.  Zoobean helps to scale that experience of finding a great, recommended book in a way that is simple and relevant for families.
B: When and why did you decide to donate to a non-profit with your "Love Collection"?
J: Our core values of love, inclusion and remarkability led us to this decision.  The books that we sell in our shop, the Love Collection, help support youth literacy causes.  We believe that finding the right books for kids can help them imagine and achieve anything, and it's important to us to support this love for reading in all communities.
B: Thank you so much for your time. What parting advice would you have for parents who are trying to find books to help their kids?
J: I typically recommend a common-sense approach to picking books.  It's a mantra in tech: focus on the user.  The same applies here.  Parents, listen to your kids! Then, find books that will resonate with what they love and are experiencing.
Into cars?  Find books about cars.  Having trouble sharing with friends?  Look for books that include lessons about sharing.  And of course, we are also fans of finding books that expand a child's perspective and help him/her see the world and a variety of points of view through books. From there…it's up to us, the parents, educators, and loved ones, to make the reading fun and engaging for kids.
Creating a sense of wonder and love for reading at a young age is such a gift.  I'm grateful to my parents for doing that for me, and I hope we're able to inspire others to do that for their children as well.
Check out Zoobean to discover remarkable books for the kids in your life and to learn more about the incredible family behind it. You can also connect with them on Twitter (@zoobeanforkids), Facebook (facebook.com/zoobean) and Pinterest (pinterest.com/zoobeanforkids).
Photo Source: BEN EASTER photography