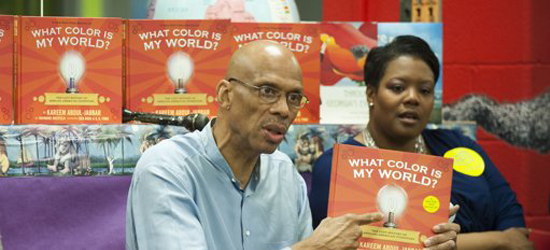 This morning, we kept our WHERE THE WILD THINGS ARE celebration going in true RIF fashion – heading off to share the joy of reading with more than 100 children at Amidon-Bowen Elementary School in Washington, D.C.
Basketball legend and children's book author Kareem Abdul-Jabbar joined RIF in giving the kids of Amidon-Bowen Elementary the gift of reading with their very own copy of WHERE THE WILD THINGS ARE —and a special reading of the book by Kareem.
Amidon-Bowen holds a special spot in RIF's heart – as it's home to the very first RIF program. The school was also presented with RIF's Multicultural Book Collection, in recognition of Margaret McNamara, RIF's founder, and Barbara Atkinson, RIF's first programs director. And thanks to the generosity of longtime board member and daughter of RIF's founder, Margaret McNamara Pastor, the school is just one of 27 DC-based RIF programs to receive the Collection.
Seeing the smiles on faces of the kids and teachers as they received their books was a perfect way to end our wild rumpus.
Check out our Flickr album for more photos from the distribution!
Keep the wild rumpus going. Download our "Where The Wild Things Are" activity sheet for your kids.
Help kids in need get a book of their own. Learn how: https://secure2.convio.net/rif/site/Donation2?df_id=2432&2432.donation=form1&JServSessionIdr004=n1idgjrhk2.app202a
Photo: Left, Kareem Abdul-Jabbar, Right, Kaya Henderson, Chancellor of D.C. Public Schools (Kevin Wolf/AP Images for Reading Is Fundamental)