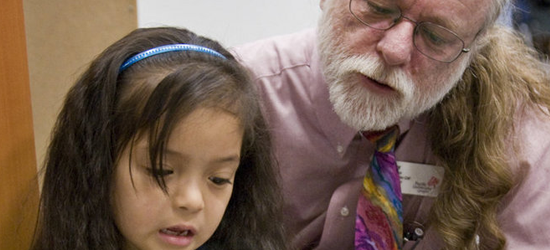 "Books can have an enormous impact on a child," stated Dr. Bailey, who has been working with low-income children for 17 years through his Reading Is Fundamental program.
Dr. Bailey's program serves primarily Spanish-speaking children, and one little girl stands out in his memory.
"Last year, this first-grade girl received her RIF books and you could tell reading in English was a challenge for her. Well, she spent all summer with her RIF books. This fall, she sought me out at her RIF distribution. She said, 'Can I read this one to you?' And she read like she never had any problems. The transformation was remarkable. She was so proud of her progress."
Were it not for Dr. Bailey – and the kindness of strangers – that may have been her last book.
With the loss of a federal grant that supplied books to Dr. Bailey's program each year, it looked like that distribution was the school's last. But Dr. Bailey wasn't going without a fight.
"I called the local media and talked to them about what we'd been doing for the last almost two decades, about how children who didn't have books at home were being given books through RIF," he explained. "We got a great write-up in the local paper. It wasn't long until I heard from a couple in town who clearly understand the value of books in a child's life. They asked how much it would take to keep the program running. And they wrote a check."
Dr. Bailey, who is a Professor of Education at Pacific University, then worked with the university to set up a fund for the program. Some of his colleagues also donated, with one fellow faculty member setting up a monthly donation.
"The community of Forest Grove Oregon really rallied behind us," said Dr. Bailey. "It's always been about supporting children's literacy. To place a book in a child's hands, it can change their lives."
Interested in supporting Reading Is Fundamental through monthly donations? Visit www.rif.org/monthly.
Photo Source: Michal Thompson/Forest Grove Leader