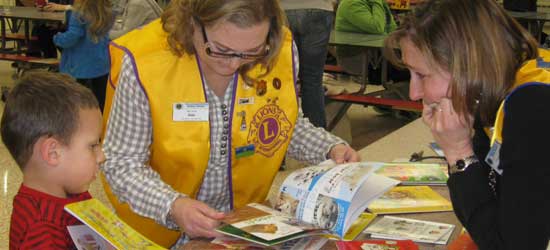 Thanks to book people uniting in Sterling, Colo., more than 80 children and their parents are on the road to a lifelong love of reading.
"This year, Lions Clubs around the globe are putting an emphasis on literacy projects," said Carol Graybill, a longtime Reading Is Fundamental (RIF) supporter. "As an active Lions Club member, I saw an opportunity to re-start a RIF program in our area."
It had been a dozen years since the last RIF program in the region – one that shut down when Carol retired. Carol was eager to get back to putting books in the hands of kids in her area.
Because new RIF programs can only be created with independent fundraising, the involvement of the Sterling Lions Club was critical. The program will begin with supporting the Iliff Head Start, with 83 children between ages 3 and 5.
"We started with a budget of $500 to purchase our first books – and we're also looking at our own fund-raising projects," explained Carol. "In January, we ordered from a RIF supplier and were really pleased with how many high-quality books we could get for our money. What a great opportunity RIF gives us to help Head Start kids."
Five other Lions Club members are working with Carol on the project – including another former RIF coordinator and a reading teacher with a master's degree. Two other members belong to a local Friends of the Library program and have helped get used books for older siblings of the Head Start children.
"We have a fine committee to build this program in the future," said Carol, who has already secured an additional $100 from a local insurance company. "We even plan to offer a parents' class on helping their kids with reading at home, thanks to our committee member who has many years of experience in teaching reading."
She added, "The families are low-income, and many are single mothers with limited English skills. They also have this in common – they all love their kids and are excited about encouraging them to read."
RIF is proud to be a partner in Lions Clubs International's Reading Action Program.  If you're interested in reading about how Lions are supporting this call to action, visit their blog to learn more!