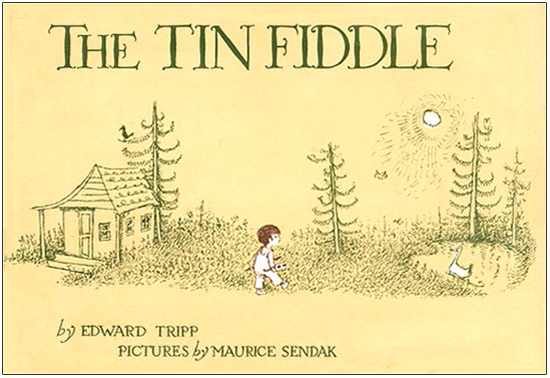 Today's blog post comes from Frances Peacock, a guest blogger in Indianapolis, Indiana, who shares her first book memory.
There was a book I had as a child called The Tin Fiddle.  It was a soft, smooth paperback with a long, rectangular shape. I think the cover was green, but it's hard to say after 40 years. The book made my mother and me laugh out loud – memories I still cherish.
Fast forward to today. As a teacher and a RIF volunteer, I'm always on the lookout for special books. So I ordered a copy of The Tin Fiddle from a used-book seller in New Jersey. A couple of days later, a manila envelope arrived in my mailbox.
I waited to open it in front of my first-grade class. The children looked at the book. I was wrong, the cover was yellow, but it was just as soft. This copy has been treasured too.
As my students looked on, I read.
"I'm going to begin," Cicero announced proudly, and he drew the bow across the strings… It did not sound like a real fiddle, however. Strange rattling sounds came from inside it as the tin bow scraped and squealed across the wire strings.
The class was polite. I heard no chuckles. I saw only concern on their faces for Cicero.
As I continued, Cicero continued playing poorly and, one by one, his family members found other places to be. Soon, the children were in on the joke and began to giggle.
When Cicero started playing for animals, they, too, flee the scene. More giggles from my students. The dog blamed fleas for his sudden exit. The children started laughing out loud.
Feeling dejected, Cicero walked glumly along and stumbled across a family of mice looking for a new home. He decided the fiddle would make an awfully nice house. My students applauded for the sweet ending.
As I closed the book, the children all told me how funny the story was. We talked about the characters: the boy, the family, the dog, and the mice. It occurred to me that this book had other characters, too.  It had a teacher and her students, an author and an illustrator (the legendary Maurice Sendak), and a book seller in New Jersey. But, for me, it started with a mother and a child.
What a refreshing reminder of the power and longevity of children's books. What's your first book memory or favorite book you've shared? Interested in guest blogging? Email us at  RIF_WEB@rif.org.