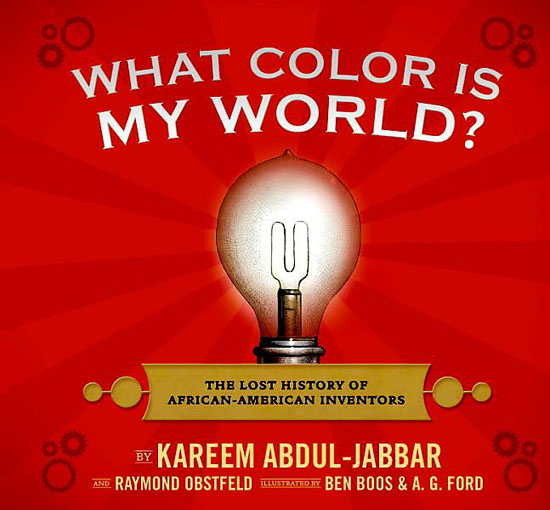 It's Black History Month and we're excited to highlight five books from our Multicultural Book Collections that bring to light incredible experiences and individuals in African-American history.
What's more, each book features free, fun activities for kids, helping you and the child in your life to connect even more deeply to the stories.
What Color is My World?: The Lost History of African-American Inventors
First on our list is a New York Times Best-Seller written by the iconic Kareem Abdul-Jabbar. This extremely informative book draws attention to African-American inventors who might otherwise be outshined.

"C'mon genius," Ella whispered to me. "Name some black scientists." I'm sure I'd read about a few, but I couldn't remember a lot of names. Finally, I said, "George Washington Carver."
Free activities [.pdf]
Martin's Big Words
This is an easily accessible book for young readers that illustrates Dr. Martin Luther King Jr.'s challenging fight for equality. Not only are Dr. King's words moving, but the illustrations are so striking – honored with numerous awards, including  a 2002 Caldecott Honor Book award and a 2002 Coretta Scott King Honor award.
Martin said love when others said hate. "Hate cannot drive out hate. Only love can do that."
Free activities [.pdf]
The Last Black King of the Kentucky Derby
What a story! As a reader, you can't help but root for Wink and draw inspiration for conquering big life goals. This tale of overcoming racial obstacles is full of energy and life.
Sweat stung Wink's eyes. He gritted his teeth and tuned out all the stomping and snorting around him. Leaning forward, he pushed Alan-a-Dale harder. The horse gave him everything it had. Wink-a-Dale crossed the finish line as the rest of the pack thundered past in a blur of browns, blacks and rainbow-colored silks.
Free activities [.pdf]
Wings
This new spin on the classic Greek tale features a young boy with wings, Ikarus, who is bullied by his peers. It's a beautifully written and illustrated book offering a lesson in the beauty of difference.
I called to Ikarus and he sailed closer to me. I told him what someone should have long ago: "Your flying is beautiful." For the first time, I saw Ikarus smile. At that moment I forgot about the kids who had laughed at him and me. I was just glad that Ikarus had found his wings again.
Free activities [.pdf]
More Than Anything Else
Sometimes the best way for a kid to understand the magnitude of societal injustices in the 1800s is to hear it from a child's perspective. This book explains what life was like from the perspective of a young Booker T. Washington, who wants desperately to learn to read but isn't allowed to enroll in school.
She doesn't say where she got it. She can't read it herself. But she knows this is something called the alphabet. She thinks it is a sing-y kind of thing. A song on paper.
Free activities [.pdf]
February is definitely a great time to read these books, but keep going all year long! To get started, check out our Multicultural Book Collection from 2011 and this year's Multicultural Book Collection, which features books focused on science, technology, engineering, arts and math (or STEAM) themes.
Interested in learning more? Read more about RIF and Multicultural Literacy.
posted by Bethany

Tags: Black History Month, differences, history, Multicultural Books