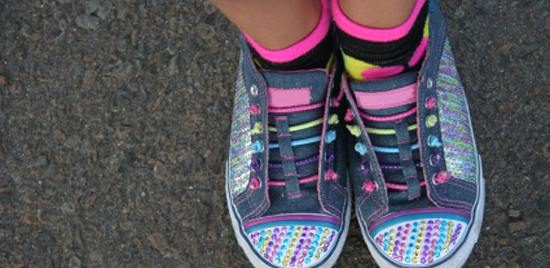 It was 1983 when 11-year-old Sangita Patel entered her school library. In front of her were piles and piles of brand new books. Like music to her ears, the teachers told her she could choose one… one to take home … for free.
Sangita has few memories of middle school, but this is one she will always remember.
When Sangita and her family immigrated to the United States, sadly the first thing to go, were books. They spent two years staying with relatives before they could settle in to their own home. And books, especially the fables and magic of children's fiction, were a luxury too expensive to afford and too heavy to transport.
While her parents placed a high value on education, for them — fairytales were frivolous. And Sangita, a small Indian girl from the largest city in England, found herself in a small, rural Virginian town feeling very much alone … until that visit to the library.
"I'll never forget taking home my Reading Is Fundamental book," Sangita said. "It literally opened up a new world to me. I chose Beverly Cleary's 'Fifteen' and read it cover to cover! It helped me adjust to my new surroundings, but ended up doing even more than that. It opened the door to the written word, a world that's now not only my passion, but also my career."
Sangita continued to read more and more books, moving from mysteries to fantasy to historical fiction. She devoured every book she could and even started writing her own short stories and fiction, ultimately leading to a successful career in the publishing industry.
Remember famed PBS show, Reading Rainbow? Well Sangita is now President of Digital Publishing for RRKidz, Inc., stewards of the Emmy-award winning brand, overseeing the publishing platform, content development and partnerships for the company's new app. She, along with LeVar Burton (host of Reading Rainbow for its entire duration) and team, are leading the way in revolutionizing how today's kids learn the love of literature.
Learn about the Reading Rainbow app, a library of quality children's literature, at www.Readingrainbow.com
RIF played no small part in her incredible outcome.
"Many of us remember Reading Is Fundamental from our childhoods, but the organization is still doing amazing work," she added. "And children need RIF just as much today as I did back then, if not more so. It's why I'm proud to be a supporter of the organization, as a donor and an advocate. If I could do for a child today what Reading Is Fundamental did for me back then, it would be incredible."
To join Sangita in supporting RIF visit www.rif.org/donate. Learn about the Reading Rainbow app, a library of quality children's literature, at www.Readingrainbow.com