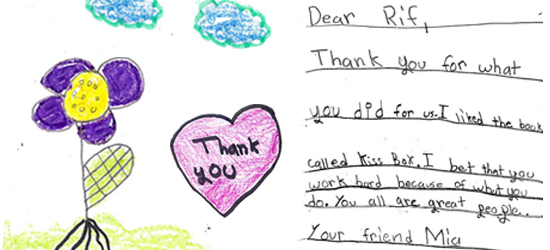 Kids like Mia, with a mom or dad likely on their way to Afghanistan, have a new way to cope with the distance. And it started with a special book, The Kiss Box.
The book tells the story of Mama Bear and Little Bear, who will soon be separated. Little Bear is worried. He doesn't want Mama to leave. So together they make boxes to store kisses for each other. And when they are apart, they simply open their kiss boxes for comfort.
At special reading celebrations in Fort Bragg and at the USS Bush, hundreds of military families were treated to a read-aloud of The Kiss Box. They took home a copy of the book. And RIF staff members helped them make kiss boxes of their own.
When we think of books and kids we often think of bright colors and butterflies, monsters at the end of the book, and balloons that airlift curious monkeys. But that's only the beginning. Books are so much more.
For kids like Mia, they can provide comfort and security. They can be opened again and again. And when dad isn't there and the day is terrible, horrible, no good, very bad — a book can bring dad's kisses, no matter how far away he may be.